CPI data released this morning showed inflation in July was about unchanged from the previous month but still 8.5% higher than a year ago.
Equity markets jumped on the headline number because equities remain singularly focused on what the Federal Reserve will do. If inflation starts to slow down then odds of big rates increase also decline. However, inflation in July was unchanged mostly because of lower fuel prices. Gasoline was down 7.7% and field oil was down 11%. The decline in fuel costs helped offset increases in food, medical services, electricity and new cars. By far the biggest increases were in food and food inflation at grocery stores led the pack. Faced with the highest inflation in 40 years, consumers appear to be consuming more meals at home, pushing up prices at retail. It is also important to recognize that grocery store inflation takes time to be fully realized because of the lag in the price transmission from producer to the grocery store shelf. Food at home inflation in July was 1.3% higher than the previous month and 13% higher than the previous year. Price inflation for food consumed away from home increased at a slower pace, up 0.7% from the previous month and 7.6% higher than a year ago. There is a 5.5% spread in inflation for food at home vs. away from home, which in turn will impact food spending at these two segments.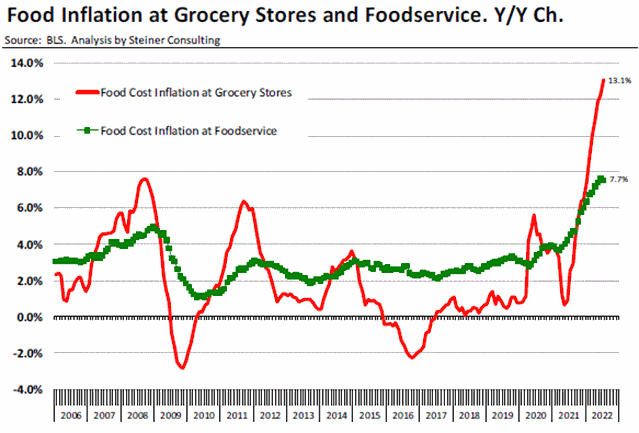 As we look at inflation for meat products, what becomes quickly apparent is the apparent shift towards less expensive options. This is most apparent in beef and pork. In July overall beef prices were up 3.4% from the previous year. However, inflation for ground beef was up 9.7% y/y while inflation for roasts was up 1.5% and inflation for steaks was down 1.5%. We always feel obliged to mention the caveat when discussing inflation for specific items. BLS tracks sticker prices, it does not tell us a weighted average price based on the volume of product sold. Thus it tends to miss the effect of promotions, etc. While the stocker price for ground beef may indeed be up9.7%, there could be a special promotion that was run post 4th of July which moved a lot of product at a lower price. With that said, the big picture still makes sense ‐ consumers are trading down to less expensive options, such as ground beef. It also helps that wholesale beef prices this year have been lower than a year ago. The choice beef cutout in June 2021 was $324/cwt compared to $268/cwt in June of this year. We noted a similar pattern for pork, with less expensive items such as lunchmeats and sausage seeing double digit price increases while the price of pork chops was pegged at +4.8%.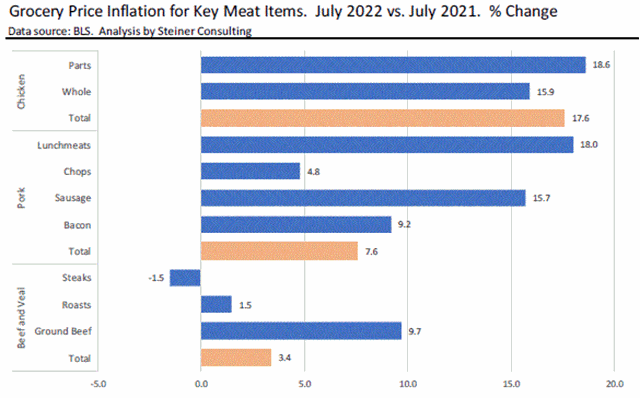 By far the biggest price increases among key meat products was in chicken. Total chicken retail price inflation in July was 17.6% higher than the previous year, with price inflation for chicken parts up 18.6%. This is in part due to a shift to less expensive protein options as well as the spike in chicken breast prices in May and June. Chicken breast prices at retail in June were pegged at $4.31/lb. compared to an average $3.52/lb. for b/s chicken breasts at wholesale. The spread over the last 10 years has been around $2/lb. but dropped to 80 cents in June. This collapse in margins continued to put upward pressure on retail chicken prices in July. However, since then we have seen chicken prices at wholesale quickly deflate, with chicken breast at wholesale today trading 40% down from its peak.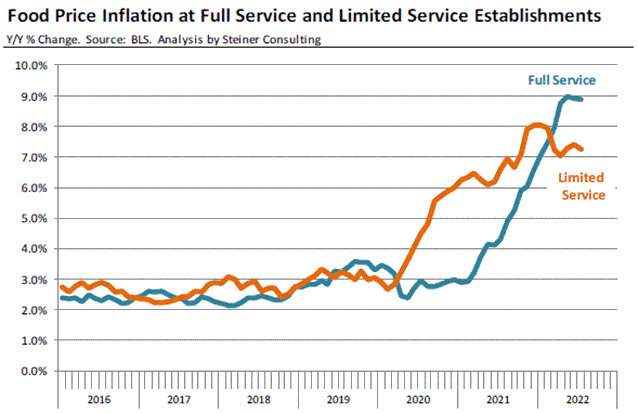 Source: Daily Livestock Report - Steiner Consulting Group