Business Advertising
Affordable, Effective, & Highly Targeted
---
The Cattle Range reaches 'All Over Cattle Country'
Traffic Data for 1/1/23 thru 6/30/23 - Google Analytics
Total Visits: 1,147,368
Visits per day: 6,339
Bounce Rate: 3.41%
Average Pages per Session: 10.57 Pages
Average Session Duration: 3:41 Minutes
Bear in mind than unlike many websites where you may have to visit 5+ pages before you can view your banner, sale banners on The Cattle Range are visible on every page all the time.
Banner Location...
Top, Right Margin placement throughout site
300 x 250 Banner: $500 per month

300 x 150 Banner: $350 per month

300 x 120 Banner: $300 per month
Body of Page placement throughout site
350 x 120 Banner: $200 per month
Cattle Range Classified Ads
An economical option is advertising in the newly launched 'Classified Ads' section on The Cattle Range.
---
Miscellaneous...
Banners also appear on TCR's Mobile App

Banners can be changed monthly.

TCR's website is compatible with most file types and animated graphics are accepted.
---
We make it easy… TCR can create your three-frame animated banner using your info and photos/graphics @ NO Charge.
A 3-Frame Banner triples the amount of information/graphics that can be displayed.
   
Large Banner... 300 x 250 Pixels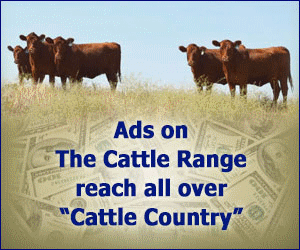 Standard Banner... 350 x 120 Pixels