USDA Economic Research Service (ERS) released the August meat price spread data yesterday. This DLR will focus primarily on spreads between retail, wholesale, and live values. A quick recap on August retail prices showed that choice beef was $7.58 per pound, down less than one percent from last year while the all-fresh beef price was $7.32 an increase of 2.6%. Retail pork was $4.94 per pound in August, flat with the prior month and up 6.3% from a year earlier.
The live to cutout beef price spread (on a $ per 1000 lbs. basis) was $404 in August which is down about $65 from a month earlier but well below last year's $967. The live to cutout spread tracking lower than 2021 levels is due to the boxed beef cutout value remaining flat for most the year averaging about $270 per cwt and 15% increase in the five-area slaughter steer price from a year ago. Through the first eight months of the year, the cutout to retail beef spread has been tracking above year ago levels each month with a range of $1,476 to $1,651 and an average of $1,578. August was $1,573 which was $337 above the same month last year and in line with the monthly average for this year. The live to retail beef spread was $1,976 which is the lowest level so far for this year and 10% below last year's level. Retail beef prices remaining well above the $7 per pound mark has kept the cutout to retail spread above last year and the live to retail spread higher than the five-year average.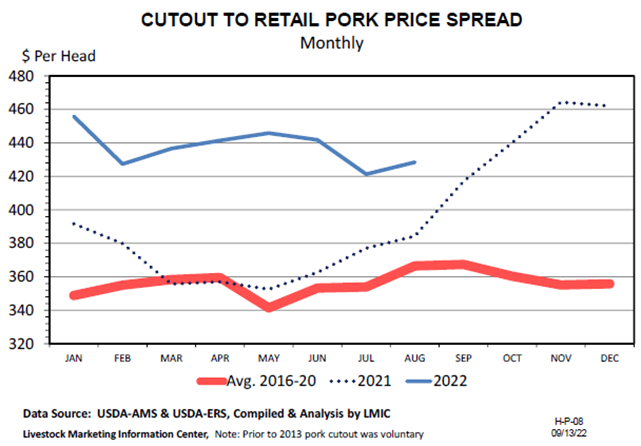 The hog price spreads (on a $ per head basis) are similar to beef in that the retail pork price in August just below $5 per pound is keeping the cutout to retail and live to retail spreads above last year and the five-year average. The August cutout to retail pork spread was $429 per head which is up 12% from last year and 17% from the five-year average. The live to retail pork spread was $472 per head in August, up 5% and 16%, respectively, from last year and the five-year average. In recent months the live to cutout pork spread has been below year ago levels with August at $43.60 per head, down 33% from last year and nearly in line with the five-year average. Pork cutout values have continued to fall in September dragging live hog prices lower. However, hog slaughter remains lower than a year ago. LMIC expects hog prices to stabilize above last year's fourth quarter prices, which could indicate a smaller live to cutout spread if cutout values continue to fall below $100 per cwt as they did last year.
Source: Steiner Consulting Group