National Conditions: November 9, 2022 - November 15, 2022
It was a generally wet week... The East saw remnants of Hurricane Nicole while snow fell on the Northern Plains, Upper Midwest, and the Rockies. The moisture helped, but more is needed for real improvements.
As of November 15, 2022, 49.41% of the U.S. and 59.08% of the lower 48 states are in drought, according to the U.S. Drought Monitor.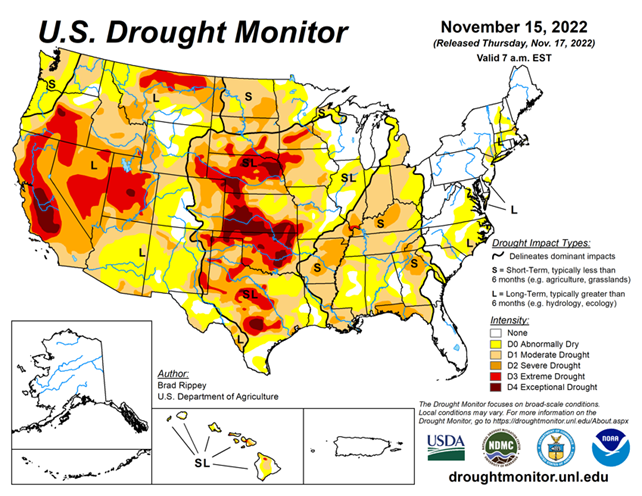 This Week's Drought Summary...
In some areas of the country, storminess chipped away and dryness and drought. Notably, on the 10th, Nicole became the first November hurricane to make landfall on the U.S. mainland since 1985, when Kate struck near Mexico Beach, Florida, on November 21. Nicole, a Category 1 hurricane with sustained winds near 75 mph, moved ashore just south of Vero Beach, Florida, around 3 am EST. Nicole's remnants eventually affected the entire eastern U.S., providing varying degrees of relief from autumn dryness. Some of the heaviest rain, locally 4 inches or more, fell in the central and southern Appalachians and neighboring areas. The rain helped to boost streamflow in the upper reaches of the Ohio River basin, with runoff moving downstream as the drought-monitoring period ended. Farther west, a storm system produced heavy snow and local blizzard conditions in the north-central U.S., while parts of the West received drought-easing precipitation. However, many other areas of the country remained mostly dry. Frigid conditions developed in conjunction with the Western storminess and expanded eastward, while much of the lingering warmth in the South and East was swept away, shortly after Nicole's departure.
Looking Ahead...
Cold weather will continue to dominate much of the country through the weekend and into early next week. At the height of the cold wave, temperatures could fall to 20°F or below as far south as the Tennessee Valley, while freezes may reach nearly to the Gulf Coast in Louisiana, Mississippi, Alabama, and northern Florida. Meanwhile, continental U.S. storminess during the next 5 days will be minimal. However, snow squalls will continue for several days downwind of the Great Lakes. In addition, rain may develop in the western Gulf Coast region. Elsewhere, aside from snow showers in the Rockies and adjacent High Plains, dry weather will prevail during the next 5 days from the Pacific Coast eastward across the central and southern Plains, the middle and lower Mississippi Valley, and much of the Southeast.
The NWS 6- to 10-day outlook for November 22 – 26 calls for the likelihood of near- or above-normal temperatures nationwide, except for lingering cooler-than-normal conditions in the middle and northern Atlantic States and parts of the south-central U.S. Meanwhile, near- or below-normal precipitation from California to the Plains, Midwest, and mid-South should contrast with wetter-than-normal weather in the Northwest and large sections of the Gulf and Atlantic Coast States.