National Current Conditions: September 6, 2023 - September 12, 2023
This week brought more degradations to the Northwest, Midwest, from Texas across to Florida, and a few other areas. Nationwide drought coverage rose for the 8th straight week. On the Mississippi River, water levels are dropping into the harvest for the second year in a row.
As of September 12, 2023, 31.10% of the U.S. and Puerto Rico and 37.04% of the lower 48 states are in drought, according to the U.S. Drought Monitor.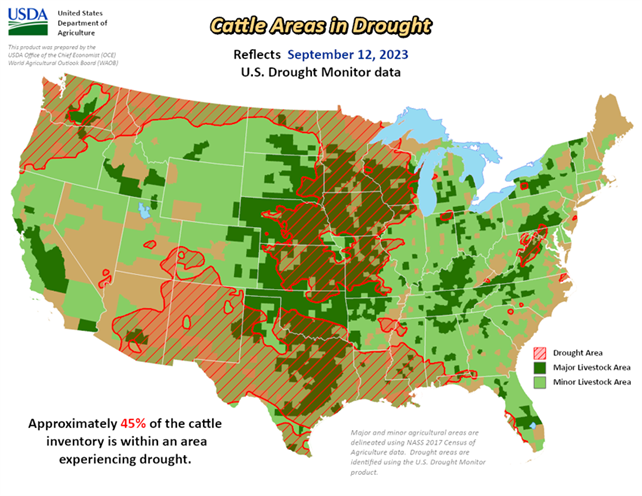 This Week's Drought Summary...
Widespread precipitation amounts of 0.5 to 2 inches (locally more) were observed across much of the Great Plains, Upper Mississippi Valley, and East. Improvements were made to areas that received the heaviest amounts. In the wake of a cold front, 7-day (September 5 to 11) temperatures averaged near to slightly below normal for the Northern Great Plains and Upper Midwest. Farther to the south, above-normal temperatures continued across the southern Great Plains and western Gulf Coast.
Since early August, persistent excessive heat coupled with a lack of adequate rainfall led to a rapid onset and intensification of drought from Texas eastward to the Lower Mississippi Valley and parts of the Southeast. Monsoon rainfall began to decrease throughout the Four Corners region and Southwest during early September, while seasonal dryness prevailed along the West Coast.
Looking Ahead...
During the next five days (September 14 - 18, 2023)
, moderate to heavy precipitation (0.5 to 2 inches, locally more) is forecast for the southern Great Plains, western Gulf Coast, and Florida Peninsula. Hurricane Lee is forecast to track near New England and could bring heavy precipitation to coastal New England. Elsewhere, across the eastern and central U.S., mostly dry weather is forecast. Dry weather, typical for this time of year, is also forecast across California and the Pacific Northwest.
The 6-10 day outlook (valid September 19-23, 2023) favors above-normal precipitation across the Great Plains and northern to central Rockies. Below-normal precipitation is most likely across the Northeast, Mid-Atlantic, eastern Corn Belt, and Tennessee Valley. Increased above (below)-normal temperature probabilities are forecast for the central (western) U.S., while 5-day temperatures are likely to average close to normal throughout the East.